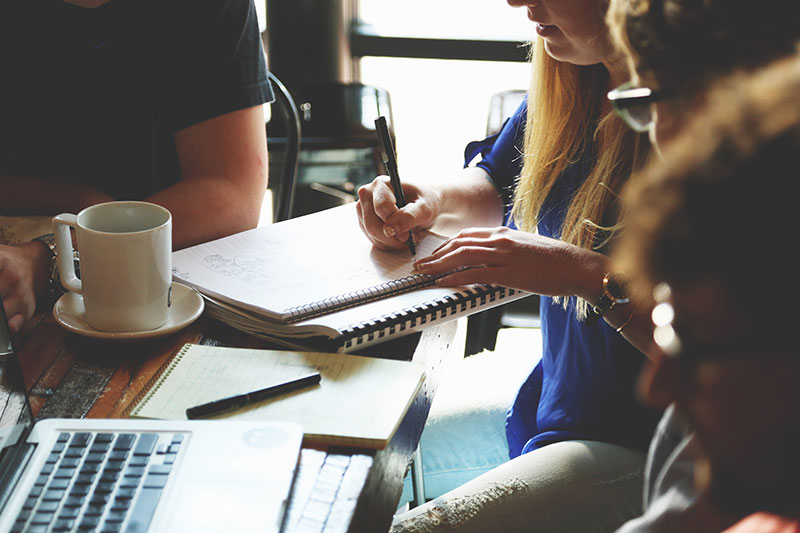 Recently, our Lead Strategist and Director of Content Development, Aruna N. Inalsingh, offered a marketing course at Fashion Institute of Technology (FIT). Our project manager, AJ Reardon, sat down with her to talk about what she learned from her students.
AJ: What was the name of your course at FIT?
Aruna: Marketing Techniques for Promoting Business.
AJ: What were your students like?
Aruna: They were all interested in having their own businesses. Some already had businesses; some had registered LLCs but needed to know next steps; some needed to define their competitive advantages. One student already had a business set up in another country and wanted to know how to sell to the western market. I also had only women students.
AJ: Interesting! Do you have any theories on why you only had women in your class?
Aruna: There is a large female population at FIT, and it seems to be a growing trend that many women want to start their own businesses. My class was a non-credit class offered in the evening, and since a lot of these students already had full-time jobs, the timing was right. They also saw this as an opportunity for their personal and professional development. Most of them don't want to stay where they are now and they want to do something where they feel they have flexibility and control over their own destinies.
AJ: What did your students want to get from the class?
Aruna: Sound business and marketing practices, including and especially, how do you promote what you've got in a cost-effective way? There was a lot of focus on market segmentation and online marketing, especially social media.
AJ: Was there anything that surprised you about your class?
Aruna: Two things:
People didn't realize this was truly a hands-on approach – the goal was to have a marketing plan prepared by the end of class. Many did not have time to prepare or follow through. Thankfully, we were still able to get those people to have discussions on the thought-process behind setting up businesses and going to market for whenever they are ready.
One student who wants to produce motorcycle wear for women, literally did everything I said: she did her own market research and segmentation; identified that her target audience was Gen X women in suburbs; got great feedback on what she needed to offer; figured out, based on class feedback, that she needed three basic body types. Despite all of this, she was overly modest. Even when she had all the answers, she felt like she hadn't done enough.
AJ: Were there some lessons your students were surprised by?
Aruna: I think a lot of them hadn't given any thought to the reality that businesses need to make money. They had ideas that they wanted to bring to the market, without knowing if their ideas were actually financially feasible or marketable. This was something I went through with other past clients. They'd have some really good ideas, but when I asked about the feasibility of making money, there was "radio silence". One client even called me a dream buster!
AJ: What would you do differently if you offered this class again?
Aruna: I've actually been invited back to teach again in March, which is exciting for me. As for lessons, my students liked having handouts to write on; this helped them focus more on the discussion. More personal handouts may make a difference in the level of engagement. So I need to think about having more handouts instead of using the whiteboard.
AJ: What was your big take-away from teaching the class?
Aruna: That I love teaching and I love sharing the things I know with people who can benefit from that. It's also easy to get out of touch with what the market is doing, so it's important to keep getting exposed to what's happening in the here and now.
AJ: Can you tell us a bit about how you developed this class, and why?
Aruna: The material was put together over a few years from one-off guest presentations at schools like NYU and various SUNY programs. It was nice to put all of these together to produce a how-to for marketing in a way that was comprehensive and hands-on, but simple. There's a great opportunity to help people by sharing this information in as many ways as possible.
In general, I think that people are over-zealous with marketing. They don't prioritize their programs based on impact and value, and then the collective effort becomes "larger than life". That's why I liken a good marketing plan to a good business plan. They go hand-in-hand, and by understanding the foundation of the business, it's easier to identify fewer, preferred marketing programs.
AJ: Thank you Aruna for taking the time to chat with me about this.
If you're wishing you could attend this class but taking a physical class in NYC isn't feasible for you, you'll be happy to know Impel Digital will be offering webinars on these topics in 2018. Sign up for our newsletter to make sure you don't miss the announcement.
Image credit: Pexels / startupstockphotos.com