Featured Case Study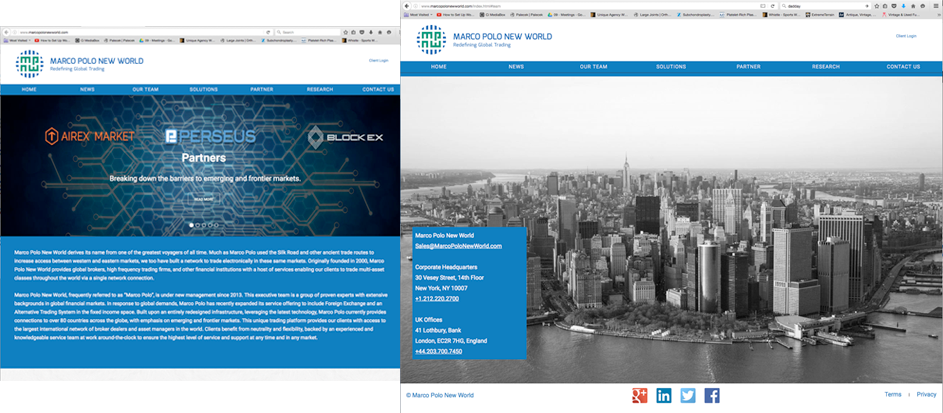 Executive Summary
When Marco Polo New World (MPNW) had to recover from the damage of filing Chapter 11 bankruptcy, they knew that they needed help with strategy and positioning. It was important that they quickly reestablish themselves in the market and restore client confidence.
An aggressive program of branding, social media, and communications allowed them to recover their reputation, land new clients, and put them on the path to success. As a result of this initiative, MPNW was breaking even two years after their relaunch and was regularly on-boarding new clients from around the world.
Client Profile
Marco Polo New World, a wholly owned subsidiary of Marco Polo Securities is a small financial technology startup with a global reach, specializing in facilitating trade between emerging markets and American markets. They provide a suite of services that includes chaperoning, regulatory compliance, trading platforms and more, supporting the buy side and sell side.
Business Challenge
After coming out of Chapter 11 bankruptcy, Marco Polo New World needed to reestablish themselves in the market and quickly land new clients in order to stay afloat and bolster their reputation in the international trading community.Initially returning to the market with their old branding and website was proving to be a handicap to the company. "Our clients clearly associated our old brand with our recent bankruptcy," said Anthony Orantes, Managing Director.
Solution
The client decided to hire Impel Digital (then Ani Marketing Service) to give the company a new image and engage their audience. A combination of branding and communication established MPNW's place in the market, renewed connections with old clients, and on-boarded new customers.
The design of a new logo and creation of a new website gave MPNW a fresh look. Email blasts, social media outreach and a content calendar of press releases, radio interviews and more allowed MPNW to demonstrate thought leadership and market presence. "The confident tone of our communications and our more engaged social media presence did a lot to foster confidence," Ksenia Lobonova of Marketing said. "Every press release brought responses from new potential clients."
Outcomes
Two years after the launch of the re-branding campaign, Marco Polo New World is breaking even. They have active communication with their prospects, a strong on-line presence, and have on-boarded many new clients, including Allaria and Dolat. Partnerships with firms around the globe have allowed them to continually improve their offerings to their clients, increasing trading opportunities in emerging and established markets alike.
Conclusion
"[Impel] partnered with our existing marketing team, understood our needs, and followed through to keep a positive presence in the market," said Orantes. "Thanks to their strategy and positioning services, our business is back on track. We're excited about our next steps."